Gilda Haas – Antioch University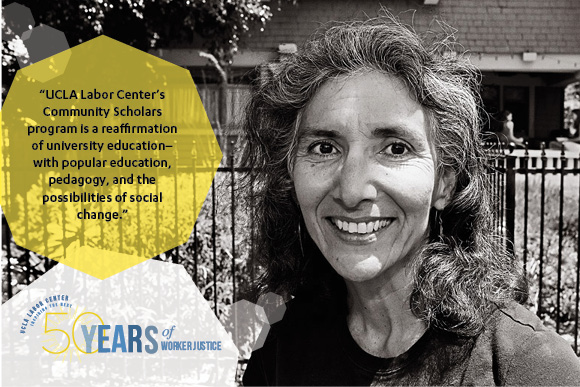 Gilda Haas is the founder and long-time leader of the UCLA Community Scholars Program. Started in 1991, Community Scholars is a joint initiative of UCLA's Department of Urban Planning and the UCLA Labor Center that recognizes the important role that community and labor leaders play in shaping community development policy. Every year, graduate students and community leaders share the space and organize together for 6 months, building relationships and collaborating on important issues. Gilda envisoned the program as a way to build a bridge with the community and turn university resources outwards.
Before the Downtown Labor Center opened, the Community Scholars Program was run out of an office in Downtown Los Angeles on 6th St and Bixel. In one class in 1992, one of the community scholars looked out the window and realized that fires were popping up around them in the Los Angeles landscape. It was the beginning of the Los Angeles civil unrest, or the "Los Angeles riots." Watching the burning city from the 8th floor of their building, Gilda recalls thinking how fortunate she was to be siting in a room with people who represent all kinds of hope and solutions to the city's problems. Despite the unrest taking place right outside the door, they were in the right room. It was a historic moment and the class took time to reflect together about the change that needed to happen in Los Angeles.
Hundreds of students and community leaders have gone through Community Scholars—many who may otherwise never have interacted with each other.  "The Downtown Labor Center became a hub for all kinds of meetings, labor activities events and relationship building," Gilda says. "It was an excellent teaching space, central to labor unions and the immigrant worker community."
In one Community Scholars class, graduate students pitched a Los Angeles manufacturing action project for multi-union organizing efforts to 10 different unions. As a result, unions contributed ten thousand dollars for this idea. Another class tackled "green jobs," and brought together an unlikely mix of stakeholders from community, environmental, labor and governmental organizations.  The class conducted applied research that led the city of Los Angeles to pass an ordinance that created the Los Angeles Green Retrofit and Workforce program to retrofit buildings across the city while creating good jobs. Other classes helped co-ops democratize leadership and developed popular education materials.
Many prominent institutions and resources also emerged from the program. Members from the first class proposed developing a nonprofit around the issues they discussed in Community Scholars. That idea would eventually become the Los Angeles Alliance for a New Economy (LAANE).
The Community Scholars Program has inspired people in other universities to start similar programs, and continues to make change to this day.
"Being involved in the Community Scholars program was a reaffirmation of university education," Gilda says. "Especially with popular education, pedagogy, and the possibilities of social change.
<! col 8- -->