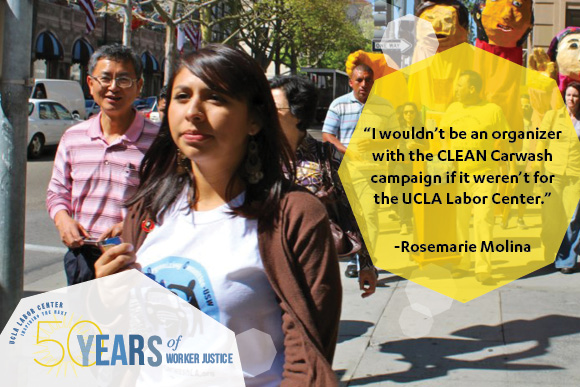 At 17, Rosemarie was going to UCLA and looking for a place to connect with issues facing the broader Los Angeles community. During this period, Victor Narro became an important mentor for her. He taught her the importance of being humble and using humility to give back to the community. For her senior year, she helped bring day laborers from Proyecto de Jornaleros (Day Laborer Project) to UCLA for computer classes. Janna Shadduck-Hernandez helped her drive these workers to campus early Friday mornings. The UCLA Labor Center became a second home for her, where she learned to be a true agent of social change.
Victor introduced Rosemarie to the CLEAN Carwash Campaign. He had been working closely with the carwasheros, who shared their experiences of 10 hour days in the heat, without water or rest breaks. Some carwasheros did not make any wages at all—they earned just tips. Victor led student research on the car industry to understand the scope of the issue. Rosemarie dove in, and became a full-time organizer at the CLEAN carwash campaign.
Victor's connections also sparked the first meeting between carwash workers and union leaders at the UCLA Labor Center, which led to the first unionized carwashes in the country. The carwash campaign began with just four people. It now has 8-9 staff and represents ten thousand workers from over five hundred carwashes. The UCLA Labor Center continues to provide much needed support for the CLEAN Carwash Campaign through its Student Leadership Academy. Interns help to keep the campaign alive and the CLEAN Carwash center open.
"I had no idea I could be an organizer as a career," said Rosemarie. "The UCLA Labor Center is a place for students to receive guidance and mentoring from strong leaders in Los Angeles. I wouldn't be an organizer if it wasn't for the Labor Center."
<! col 8--->